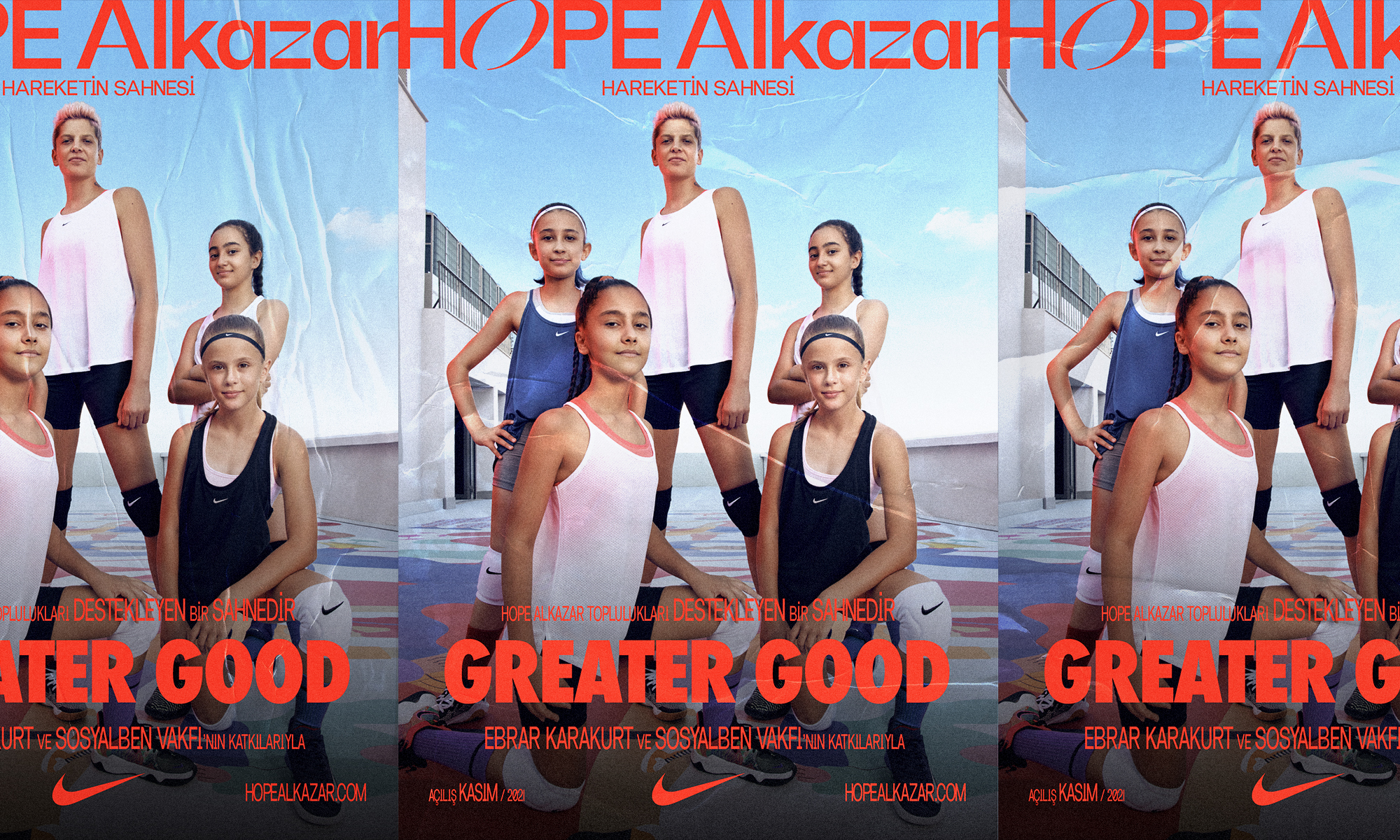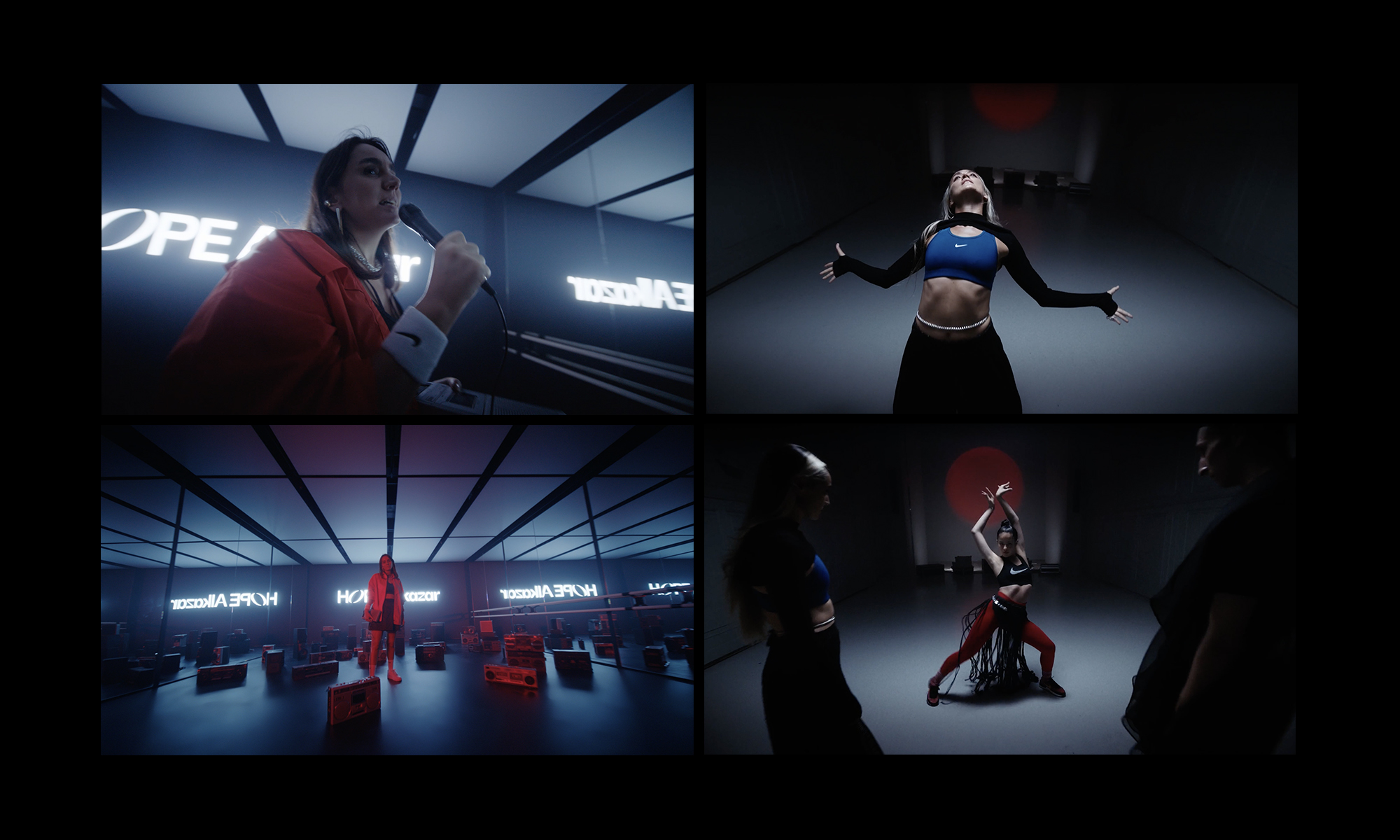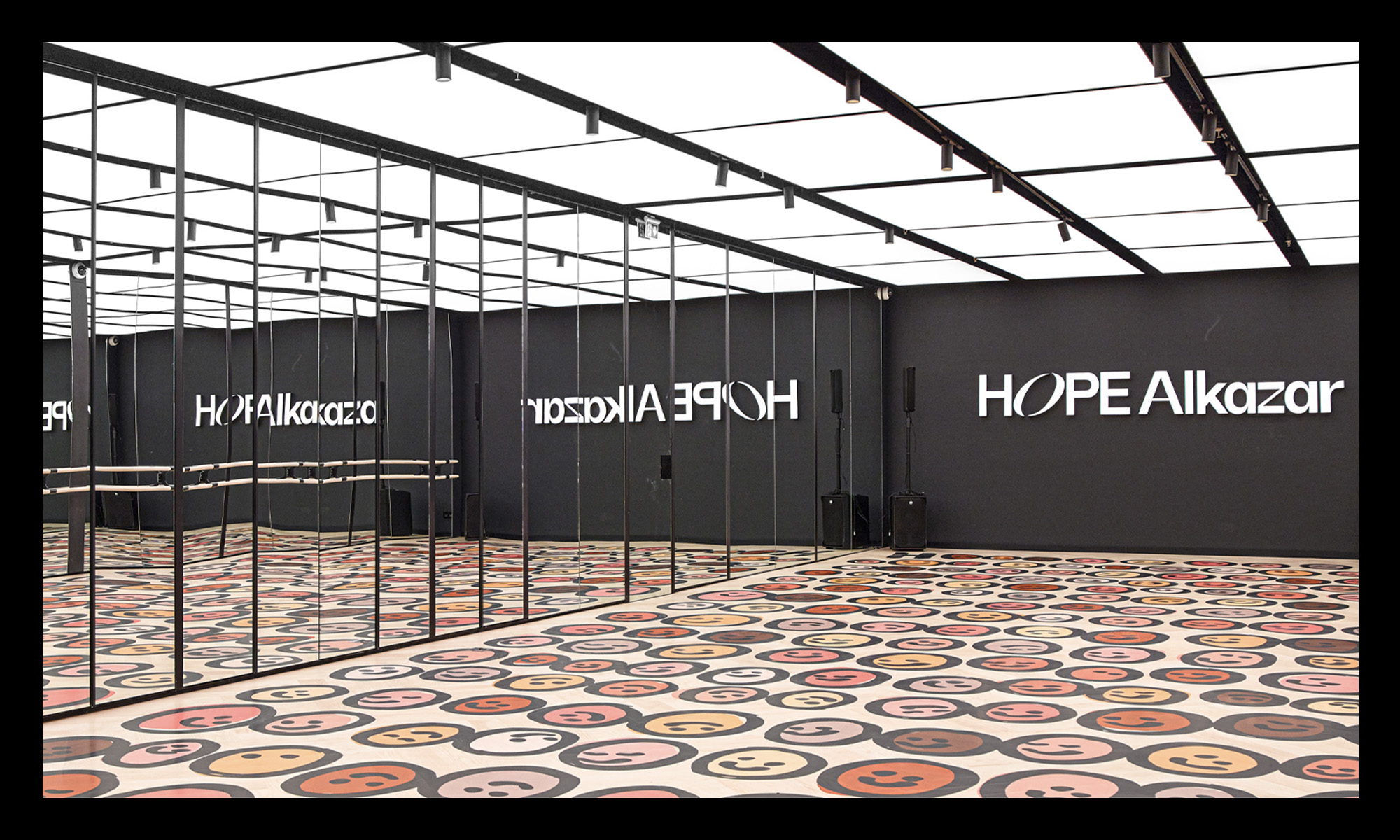 Nike

Hope Alkazar
2021
Commercial work
A stage to awaken and elevate Turkey's youth communities, using the power of sport as a catalyst for change.
READ MORE


The Alkazar building in Istanbul – once an iconic venue for theatre and film – had fallen into decay. Working alongside a local cultural committee, Nike hoped to restore the building to its former glory, but rebuilt for a modern generation; a multi-purpose space featuring rooftop courts, a fitness studio, makers space, community cafe, podcasting suite and speakers hall.

My role in the project began by creating a narrative to guide people throughout the building: telling the story of the space from its history, to its sustainable redesign, to the partners who embody it's values.

This expanded into developing the creative direction for the launch campaign. Borrowing from Alkazar's heritage as a film theater, everything was underpinned around the notion of a 'stage'.

The core values of the Hope Alkazar initiative led us to writing five short films: New Ground (innovation), Greater Good (community), Beyond Borders (accessability), Open Arms (empathy) and Move To Zero (sustainability). Each script centered around a different Turkish athlete or cultural hero, from volleyball icon Ebrar Karakut, to NBA star Cedi Osman, to world-reknowned digital artist Refik Anadol.

Follow HOPE Alkazar's journey here.

(2) The launch films were of course in Turkish, but featured above is a directors cut combining clips from all five films into a single edit. The voiceover is the manifesto for HOPE Alkazar, written by myself, exhibited inside the entrance hall, and read here by dancer Ekin Bernay.

(15) The basketball hoop featured in MOVE TO ZERO – masterfully upcycled from construction scrap by Onaranlar Kulübü – is now permanently installed at a community court in Beyoğlu.


Creative (Nike EMEA)
Experience Director ︎︎︎ ︎︎︎ Daniel Whiteneck
Narrative Director ︎︎︎ ︎︎︎ Sara Kujundžić
Creative & Writer ︎︎︎ ︎︎︎ Tom Bird
Art Director ︎︎︎ ︎︎︎ Morgan Ruby
Graphic Identity ︎︎︎ ︎︎︎ Fatih Hardal
Producer ︎︎︎ ︎︎︎︎︎︎ Anthony Smith
Designers ︎︎︎ ︎︎︎ Yasmine Tse, Luca Fiandri

Production (Nike Turkey)
Project Manager ︎︎︎ ︎︎︎ Burcak Bo Bakla
Marketing Manager ︎︎︎ ︎︎︎ Selin Molinas
Production Company ︎︎︎ ︎︎︎ DEPO
Photographer ︎︎︎ ︎︎︎ ︎︎︎ Emre Ünal
Director ︎︎︎ ︎︎︎ Hakan Can
DOP ︎︎︎ ︎︎︎ Akin Cetin
Editor ︎︎︎ ︎︎︎ Turgut
Sound designer ︎︎︎ ︎︎︎ Matthias Müller
SkatePal
SAHTEN صحتين
2020
Personal work
A cookbook that uses food, recipes and stories to paint a portrait of the current skateboard scene in Palestine, and share the story of SkatePal.
READ MORE


SkatePal is an NGO that promotes and facilitates skateboarding in Palestine – a place where due to years of military occupation recreational opportunities are severely limited.

In the seven-years since it began as a humble summer school, SkatePal had helped to build a growing scene in Palestine and a compelling reputation among the international skateboarding community. Problem is, NGOs need funding, and skaters are strapped for cash, so we needed to broaden our audience beyond skateboarding.

If there's one thing that unites everyone, it's food. And in Palestinian culture, not only is the food delicious, but it has become an inseparable part of building trust between SkatePal and the local communities.

Hence, this book is a collection of recipes and stories from local skaters, their families, shop owners, local heroes, past volunteers, and even Palestine's own international masterchef, Sami Tamimi (business partner of Yotam Ottolengi) – plus loads of other fun features.

All proceeds from the book help support SkatePal's programmes in Palestine. View some featured stills here, then go pick up a copy here.

Or depeding where you are in the world, you can also find the book in a growing number of stockists:

~ Antenne [UK]
~ Artists Proof [Berlin]
~ Artwords Bookshop Ltd. [London]
~ The Book Depository
~ BY.E [Oklahoma, US]
~ Bodega Ritas [London]
~ Category Is Books [Glasgow]
~ Hen's Teeth [Dublin]
~ Homestead [Hull]
~ Librairie Sans Titre [Paris]
~ Mast Books [New York, US]
~ Materia Prima [Porto]
~ McNally Jackson [New York, US]
~ Milk Run [London]
~ Nöl Collective [Ramallah]
~ Palomino [UK]
~ Shreeji Newsagents [London]
~ Skylight Books [Los Angeles]
~ Spazio Punch [Venice]
~ Stack [UK]
~ Tender Books [London]
~ Village Bookstore [Leeds]


SkatePal Team ︎︎︎ Charlie Davis, Theo Krish, Dorothy Izkrzynska, Aram Sabbah
Concept & Production ︎︎︎ Tom Bird
Sub-Editors ︎︎︎ Dorothy Izkrzynska, Theo Krish
Design & Art Direction ︎︎︎ Tom Bird
Writer ︎︎︎ Tom Bird
Translations ︎︎︎ Aram Sabbah
Contributors ︎︎︎ (refer to book)
Super8 ︎︎︎ Aram Sabbah
Distribution ︎︎︎ Alex Adetiba (SkatePal) & Antenne Books

IKEA
A Better World Starts At Home
2018
Commercial work
A big campaign about small changes. And also how a bit of blue & yellow can help us all become more green – from the comfort of your home.


READ MORE


IKEA wanted to talk about sustainability without sounding like a naggy neighbor. Under the broad thought, 'A better world starts at home' we created a series of workshops instore and online that educate and make sustainability fun for the whole family.

The campaign stretched from fridge-leftover cookery classes and 'The Energy-Saving Olympics, to a haunted house of resurrected vegetables and blanket fort building. Featured here are a couple of my favourite pieces...

(1-10)
Sweet Cotton Dreams
A childrens book that explains where pillows and blankets come from. Part of an instore event called The Sustainable Sleepover, in which parents and children would first build a blanket fort from IKEA's sustainably-sourced cotton products (using our handy blanket-fort instruction manual) (4), then make an LED night-light, before climbing inside to read our book.

(12-15)
The Accidental Environmentalists
A series of short Instagram films showing that no matter who you are, you're probably accidentally-environmentally-friendly.

(16)
Power in Numbers
The maths is simple: a small change x millions of people = a big difference.


Agency ︎︎︎ Anomaly
Creative Directors ︎︎︎ Fabian Berglund, Afshin Moeini, Christian Poppius
Creatives ︎︎︎ Tom Bird, Tom Biddulph, Alice Isakson, Leanne Dingwall
Writers (Sweet Cotton Dreams) ︎︎︎ Tom Bird, Becky Ross
Illustrator (Sweet Cotton Dreams) ︎︎︎ Anna Kovecses
Producers ︎︎︎ Lio Dijkman, Suzanne van den Bouwhuijsen
Film Director ︎︎︎ Rene Nuijens
Design & Animation ︎︎︎ Andy McAlpine, Jouk Fris
Desigual
Forwards Is Boring
2019
Commercial work
A D&AD-winning brand identity which helped an iconic Spanish fashion brand rediscover their mojo and turn things around… including their logo.
READ MORE


Yes, yes, I know – the ultimate faux-pas. Branding 101: 'Do whatever, just don't fuck with the logo!'

But once upon a time – long before it had drifted into a high-street brand worn by geography teachers and soccer mums – Desigual was worn by Ibiza's hottest hedonists.

So something about our idea: 'Forwards is Boring' captured the spirit of the Desigual purists who were trying to save the brand. It became their new mantra for how to look at the world. 'Desigual' means 'different' in Spanish, after all.

With their blessing, we went full Missy Elliot on the logo and flip-reversed it. We then annouced it with a bunch of bold backwards statements that were plastered all over Barcelona and in Desigual store windows around the world.

We also made a film for this new way of thinking (I hated how it turned out, but I got a glimpse into the world of fashion) and my manifesto ended up printed the walls of Desigual HQ and in their SS20 runway.

And in the true spirit of 'Fowards is Boring', when Desigual launched their new season at Art Miami (directed by the amazing Carlota Guerrero), the models showed the clothes by, well... losing them. (15)


Agency ︎︎︎ WE ARE Pi
Creative ︎︎︎ Tom Bird, Seth Josephs
Creative Directors ︎︎︎ Barney Hobson, Rick Chant
Brand Managers (Desigual) ︎︎︎ Piedad Morillas,

Román Lata


Chief Marketing Officer (Desigual) ︎︎︎ Guillem Gallego
Producer ︎︎︎ Agathe Derstroff, Lor Solano
Director ︎︎︎ Lisa Boostani
Production Company ︎︎︎ Sauvage (BCN)
Photographer ︎︎︎ Alejandro Sonoro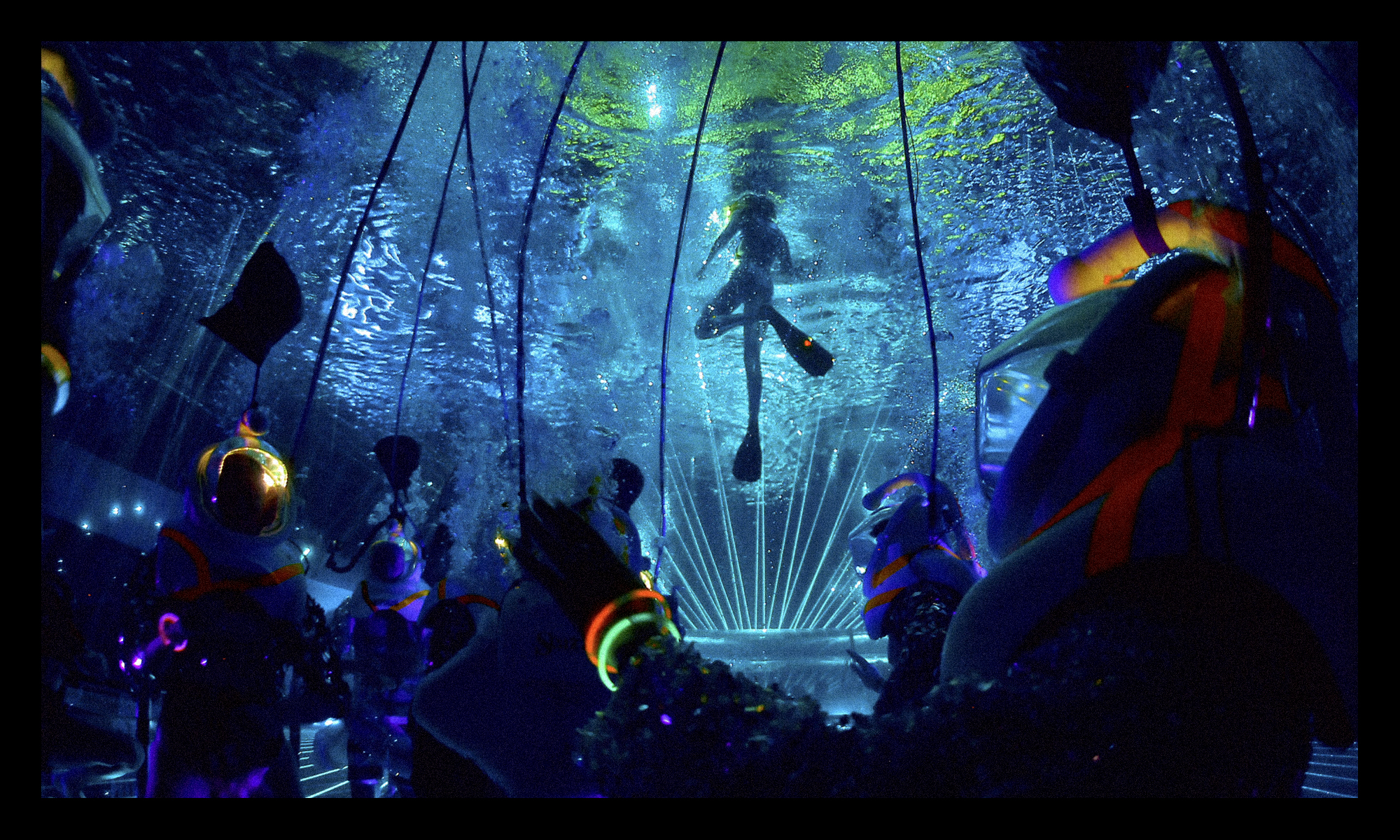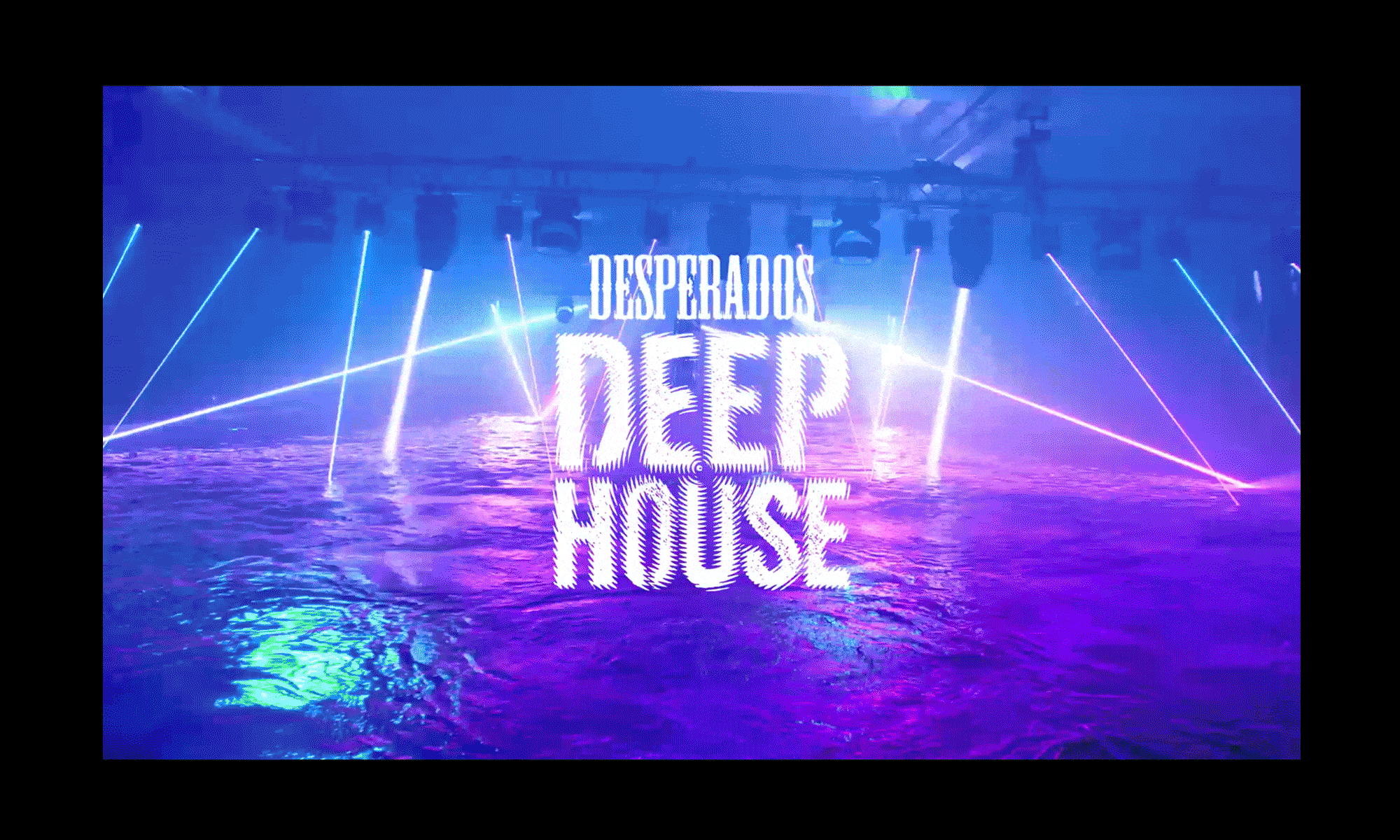 Desperados
Inner Tequila Studios
2016–18
Commercial work
An experimental platform exploring the future of club culture. From sub-aquatic parties, to unusual sound systems and inhabitable synthesizers.


READ MORE


As a beer born out of experimentation, Desperados wanted an experimental thread to run through all of their parties. We created Inner Tequila Studios as a side-arm of the brand, dedicated to pushing the limits of the party experience, always with a DIY approach.

(1-9)
Deep House Party
It's summer. All of our rival beer brands were chatting about boat parties in the sunshine. But Desperados aesthetic was less beach, more dank basement. So we proposed the opposite... lets do a party in the dark depths of the ocean.

(Of course, that quickly became a health & safety nightmare – but a giant free-diving tunnel proved a fun alternative!)

We enlisted Peggy Gou and Artwork to provide the tunes and some good humor for this novel party. The party was featured on a CNN global news report, and won the 'Outstanding Creative Idea of the Year Award' at the Campaign Experiential Awards (2019)

(10-12)
Shattering Bass
Desperados wanted to express their commitment to DIY music culture through a single image. We settled on creating a functioning sound-system, using Desperados bottles as the acoustic shell. It was no Funktion-One, but it still sounded pretty pumping!


Agency ︎︎︎ WE ARE Pi
Creatives ︎︎︎ Tom Bird, Tom Biddulph, Kyle Foreman
Creative Director ︎︎︎ Rick Chant, Barney Hobson
Producers ︎︎︎ Stephanie Whitehead, Cathy Tennant, Ekaterina Golovkina
Event production ︎︎︎ Jack Morton
Directors ︎︎︎ Hobson+Chant
DOP ︎︎︎ Finn White-Thompson
Music Licencing ︎︎︎ P&S
Production Company (Shattering Bass) ︎︎︎ Making Pictures
Photographer ︎︎︎ Sam Hofman
Acoustic build ︎︎︎ Kyle Bean