KLABU
Ter Apel clubhouse
2023
Commercial work
A splash of optimism to launch KLABU's latest project inside the Netherlands' largest facility for refugees and asylum seekers.
READ MORE


A fresh wave of migration into Europe during 2022 created a backlog of asylum claims across the continent. In Ter Apel, the largest refugee centre in NL, residents ended up spending months, waiting…

KLABU responded to the situation by initiating a weekly sports programme for the most vulnerable – the unaccompanied minors – and the success of the programme led to an opportunity to launch an official KLABU clubhouse. The only issue was that the sports-court inside Ter Apel was a bit, well, bleak... grey slabs inside a big cage.

KLABU, however, is vibrant brand that seeks to add colour back to peoples lives. So I proposed to launch the clubhouse by teaming up with the young residents to give the sports court a lick of paint – recreating the KLABU pattern that features on all their sportswear.

In true low-budget-DIY-fashion, I schooled myself on concrete murals, before loading the van with paint, brushes and overalls. We then strapped some Go-Pros on the paint-rollers and let the kiddos go wild...

More info on the project here, and some behind-the-scenes here.


Creative Director ︎︎︎ Tom Bird
Directors ︎︎︎ Richard Hu, Tom Bird
DOP ︎︎︎ Richard Hu
Editor ︎︎︎ Richard Hu, Tom Bird
Production Assistance ︎︎︎ Tjark Klimant
Mural Prep Partner ︎︎︎ Fleur Harmsen
Photography ︎︎︎ Rie Yamauchi, Tom Bird
Music Licensing ︎︎︎ Out / Standard
Cast ︎︎︎ KLABU team & Ter Apel residents (May 2023)
Project partners ︎︎︎ COA Nederland
UEFA Foundation
ESPN (NL)
Nederlandse Loterij
BasicFit (NL)
Loods
3x3 Unites
ApenkooienGym
VAAF

Big shout out also to Nike Football for the cash-monies!

WeTransfer
Think it. Make it. Move it.
2023
Commercial work
A collaboration with
Jungle
, showing how WeTransfer gives momentum to ideas, such as the duo's new visual album
Volcano
.
READ MORE


WeTransfer doesn't just share files. It moves ideas. Big ideas. Bombastic ideas. Game-changing ideas. It lights the fuse and blasts your brain into the stratosphere, triggering a chain reaction of creativity.

They needed a platform that could speak to everyone, from creatives to teachers to dentists, and inspire them to get things moving. We coined the line – Think it. Make it. Move it. – a simple, modular statement that can be playfully re-written to suit any number of professions.

Next, we reached out to WeTransfer's creative network, asking what big ideas people were trying to bring to life. JUNGLE had an ambitious idea for their new studio album – to turn the album into a motion-picture, comprised of 14 music videos. And so we joined them for the ride... documenting their creative process and turning the material into posters, TV spots, as well as an online hub – jungle.wetransfer.com – where we 'dropped' various other fun stuff to scores of hungry fans (i.e. musical stems for a remix competition, a behind-the-scenes zine, and 3D-printable merch).

The centre-piece of our campaign was essentially a product demo: we created an experimental interactive music video for one of the album's lead tracks Back on 74, in which the audience could download one of 10,000 artworks created by JUNGLE's J. Lloyd. Some lucky people also found free tickets to JUNGLE's 2023 world tour in their file download.

Experience the video here, then check out Jungle's new album Volcano, out Aug 2023.


WeTransfer Studio
Head of Studio ︎︎︎ Lily Darby, Nessim Higson
Brand Director ︎︎︎ Tara Goutermout
Creative Director ︎︎︎ Matt Skibiak
Creatives ︎︎︎ Tom Bird, Ian Fairbrother
Project Manager ︎︎︎ Hunnah Mullen, Aya Hayashida
Design Direction ︎︎︎ Hugo Timm, D. Alcausin
Designers ︎︎︎ Fin O'Neill, Josh Caley-Brown
Motion Design ︎︎︎ Everton Guilherme, Flávio Lourenço
Software Engineer ︎︎︎ Bram Kekels

Production (WeTransfer)
Production Company ︎︎︎ WHALE
Technical Production Partner ︎︎︎ Nexus Studios
Producer ︎︎︎ Sanne van Hattum
Junior Producer ︎︎︎ Anna Lee
Director / DOP (commericals) ︎︎︎ Rik Burnell
Photographer ︎︎︎ Sophie Green
Editor ︎︎︎ Rigel Kilston
Music ︎︎︎ JUNGLE

Production (JUNGLE)
Production Company ︎︎︎ Contentus Maximus
Director (music videos) ︎︎︎ Charlie Di Placido, J. Lloyd
Producer ︎︎︎ Matt Craig
Lead Choreo ︎︎︎ Shayla Latukolan
DOP ︎︎︎ Natasha Duursma
Set Design ︎︎︎ Sam Storey
**full cast & crew credits for music videos can found in the YouTube description**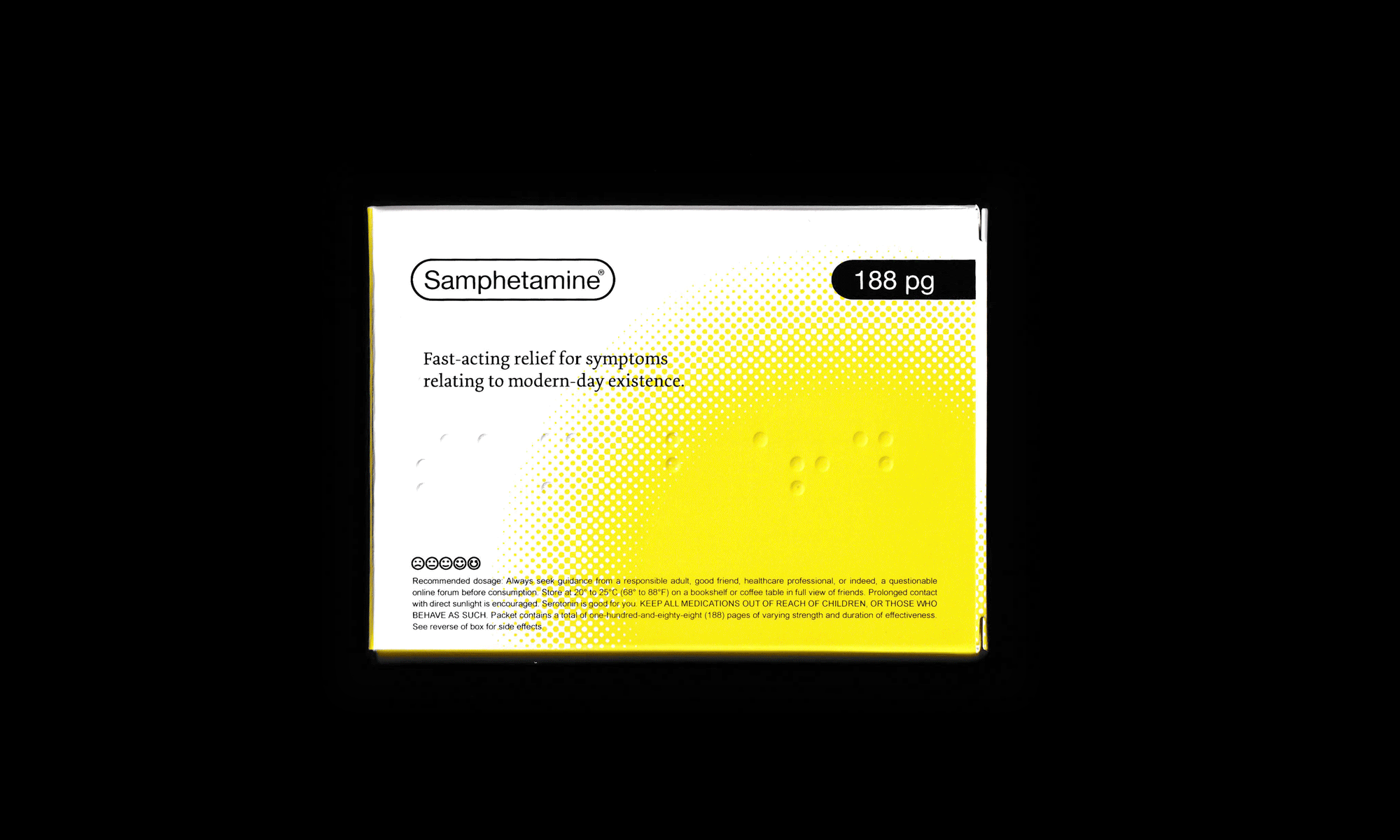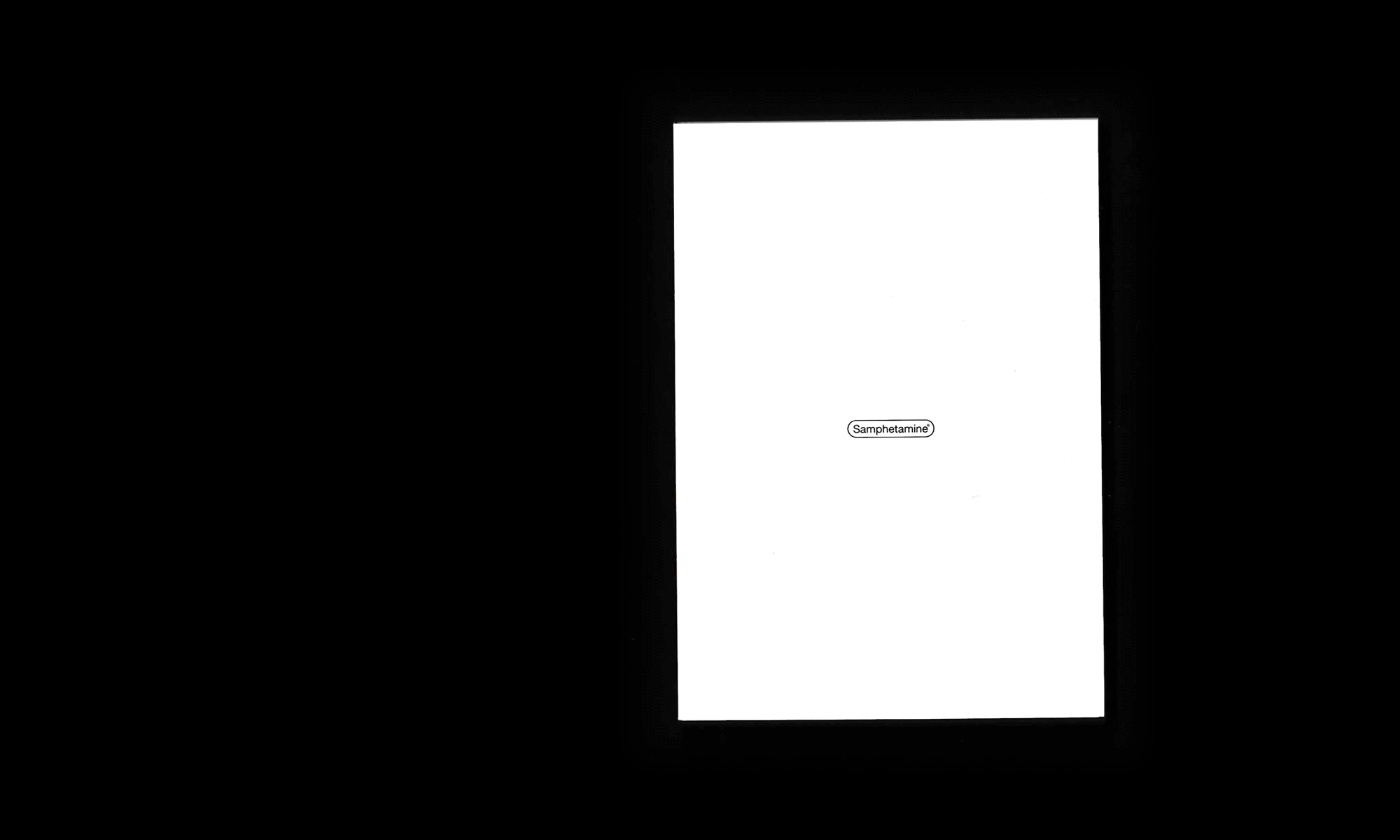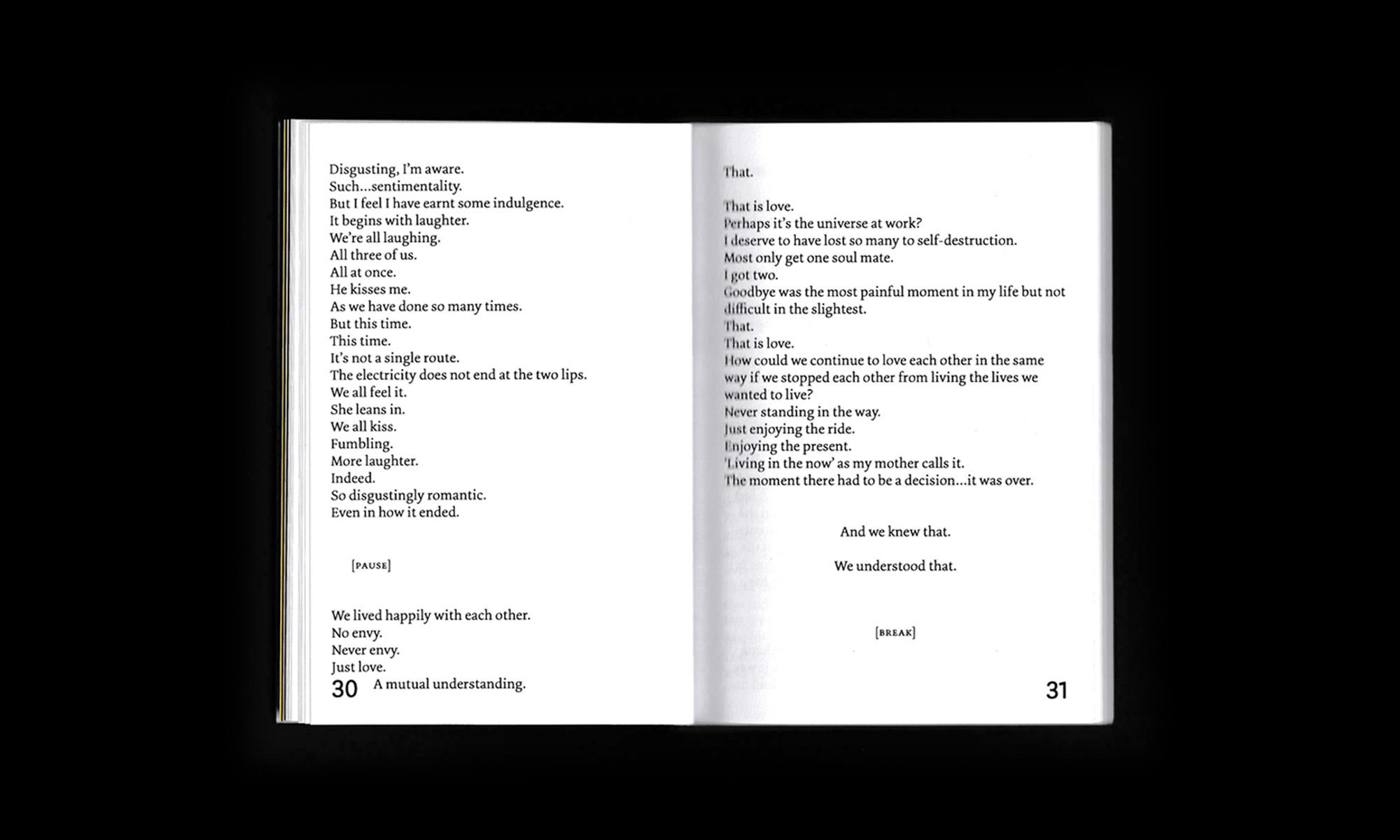 Samphetamine®
2022
Personal work
A groundbreaking new form of medication providing fast-acting relief from modern day existence.
READ MORE


What may appear like a legit pharmaceutical drug, Samphetamine®, is in fact a collection of performance pieces written by a young theatre writer called Sam Bird, who also happens to be my younger brother.

Each of the works is rooted in the experience of chronic depression, for which he was diagnosed at age 17.

Sam hadn't realised it before, but being 'medicated' – and all the consquences that ensue from it – is a constant theme across his writing, and sparked an idea that I couldn't resist… to publish this body of work as a medication; fully branded, with pharma-style packaging, a 188-pg fold-out insert, plus a corporate website, complete with FAQ page and the opportunity to purchase a sample.

** fact fact... Stripe payment systems temporarily blocked access to the site as it flagged up as a 'violation of their policy regarding the sale of controlled substances'. Access was only re-instated after I appealed the decision, explaining that instead of a black-market narcotics dealer, I am a publisher and this is a book **

Now turn that frown upside down and go fetch yourself a copy here: www.samphetamine.uk



Author ︎︎︎ Sam Bird
Launch Concept ︎︎︎ Tom Bird
Design & Art Direction ︎︎︎ Tom Bird
Additional copywriting ︎︎︎ Tom Bird
Web Design & Build ︎︎︎ Tom Bird
Illustrations ︎︎︎ Gabriel Carr
Printing ︎︎︎ Jubels [NL]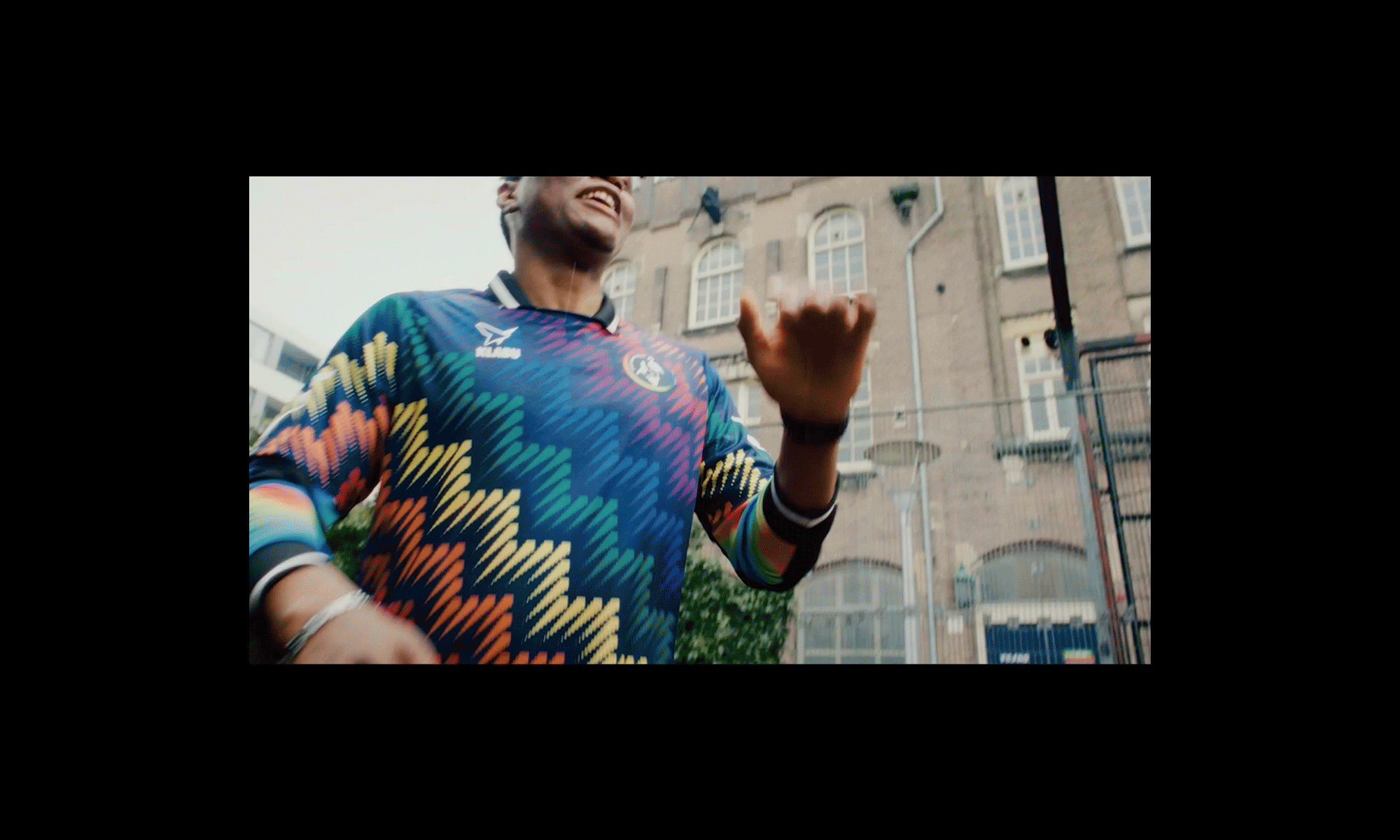 KLABU
Amsterdam Spirit
2023
Commercial work
A pigeon, a heron, and a rainy day in Amsterdam tell the story behind the badge on KLABU's new Amsterdam teamwear.
READ MORE


KLABU is a sports foundation with a mission to support refugees through sport. Through a partnership with UNHCR, we create sports clubhouses in refugee camps around the world, then help fund the projects through our sportswear brand.

With travel to our international projects limited during the Covid-19 pandemic, KLABU began looking at what we could do closer to home. And so the weekly workout was born... a fun way to connect new arrivals (refugees, asylum seekers and undocumented migrants) with local Amsterdammers.

Every KLABU kit features a badge co-created with those involved in the project. The Amsterdam badge features two birds, a heron and a pigeon, representing the refugee & host communities coming together around a classic Amsterdam water fountain, described by a regular member as, "the place where new friendships begin".

We brought the film to life with various members of our weekly workout crew, on an authentic rainy day in the city. The commercial was screened across all Amsterdam cinemas throughout the summer.

Grab the shirt and show your support here.

(1, 5) Film shoot BTS
(6, 7) Launch event @ Het Ketelhuis cinema
(8, 9) Posters for KLABU's JCDecaux NL Prize [design: Tom Bird]
(11) KLABU x GoalClick at Kalobeyei, Kenya


Agency ︎︎︎ HERC
Production Co ︎︎︎ DPPLR
KLABU Leadership ︎︎︎ Jan Van Hövell, Kelvin Govey, Alex Webb
Creative Director ︎︎︎ Emilio de Haan (HERC) + Tom Bird (KLABU)
Director ︎︎︎ Mikki Sindhunata
Creative (Concept & Writer) ︎︎︎ Tom Bird
Art Director ︎︎︎ Astrid Niari, Emilio de Haan
Producers ︎︎︎ Cherise Basiran, Jimi Visser
Cast ︎︎︎ KLABU Amsterdam community
Lisa Elsenburg
Mohammed Bah
DOP ︎︎︎ Simon Meesters
Editor ︎︎︎ Samantha @ Studio Radijs
VFX ︎︎︎ Ton Habraken, The Compound
Grade ︎︎︎ Qianwei Tong
Motion Graphics ︎︎︎ Nick Fatouris, Astrid Niari
Music ︎︎︎ Nils den Otter (Audentity) & Majdy (KLABU)
Stylist ︎︎︎ Perrine Philomeen
Photography ︎︎︎ Tom Bird, Manouk Quint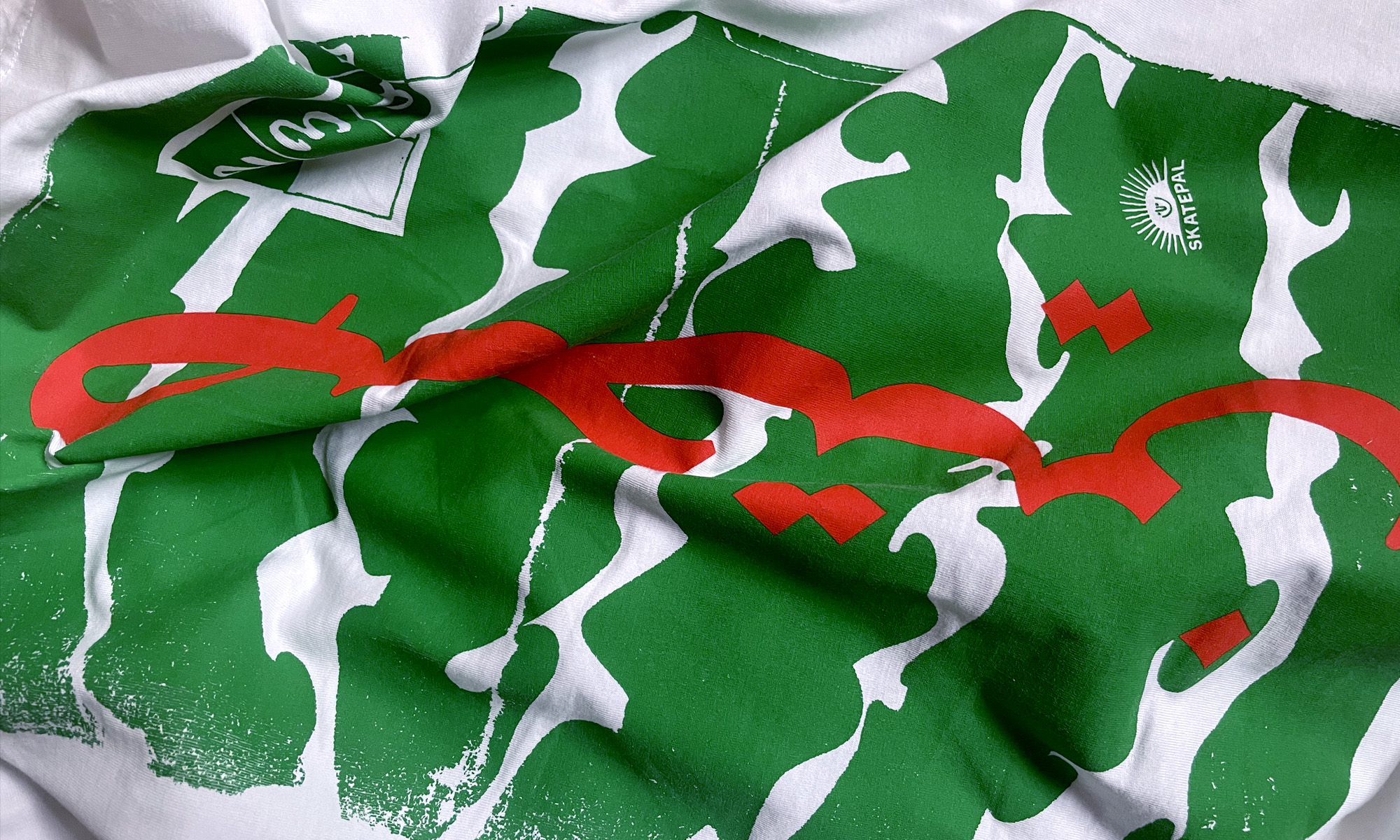 SkatePal
SAHTEN صحتين
2020
Personal work
An unconventional cookbook that uses food to tell the story of SkatePal and paint a portrait of the current skateboard scene in Palestine.
READ MORE


SkatePal is an NGO that promotes and facilitates skateboarding in Palestine – a place where due to years of military occupation recreational opportunities are severely limited.

In the years since it began as a humble summer school, SkatePal has helped to build a growing scene in Palestine and a compelling reputation among the international skateboarding community. The problem however... is that NGOs need money. And skateboarding isn't a sport with deep pockets. So we needed to broaden our audience beyond skaters.

If there's one thing that unites everyone, it's food. And in Palestinian culture not only is the food delicious, but it's become an inseparable way of building trust between SkatePal and the communities they work with.

This book, therefore, is a collection of recipes and stories from local skaters, their families, shop owners, local heroes, past volunteers, and even Palestine's own international masterchef, Sami Tamimi (business partner of Yotam Ottolengi) – plus loads of other fun features.

All proceeds from the sales of the book help to sustain SkatePal's programmes in Palestine.

View some featured stills here, then go pick up a copy here. Depending where you live, you can also find the book in a growing number of stockists around the world:

~ Antenne [Worldwide]
~ Artists Proof [Berlin, DE]
~ Artwords Bookshop Ltd. [London]
~ Athenaeum Boekhandel [Amsterdam, NL]
~ The Book Depository [Worldwide]
~ BY.E [Oklahoma, USA]
~ Bodega Ritas [London]
~ Category Is Books [Glasgow, SC]
~ Hen's Teeth [Dublin, IR]
~ Homestead [Hull]
~ Librairie Sans Titre [Paris, FR]
~ Mast Books [New York, US]
~ Materia Prima [Porto, PT]
~ McNally Jackson [New York, USA]
~ Milk Run [London]
~ Nöl Collective [Ramallah, Palestine]
~ Palomino [UK]
~ Shreeji Newsagents [London]
~ Skylight Books [Los Angeles, USA]
~ Spazio Punch [Venice, IT]
~ Stack [UK]
~ Tender Books [London]
~ Village Bookstore [Leeds]

(3) SAHTEN launch film shot and edited in Palestine by Aram Sabbah.


SkatePal ︎︎︎ Charlie Davis, Theo Krish, Dorothy Izkrzynska, Aram Sabbah, Alex Adetiba
Concept Development ︎︎︎ Tom Bird
Editor & Writer ︎︎︎ Tom Bird
Design & Art Direction ︎︎︎ Tom Bird
Photography ︎︎︎ Tom Bird & many more
Sub-Editors ︎︎︎ Dorothy Izkrzynska, Theo Krish
Cultural Guidance & Translation ︎︎︎ Aram Sabbah
Contributors ︎︎︎ (far too many to mention here, you know who you are)
Distribution ︎︎︎ Antenne (Global)
SkatePal (UK + EU)